Bloodstone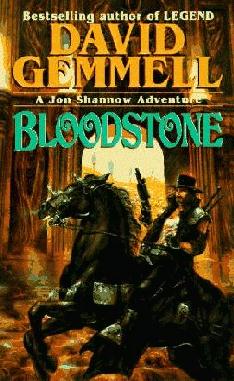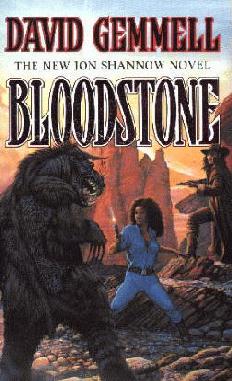 Left cover-U.S. / Right cover-U.K.

Twenty years have passed since Jon Shannow, the legendary Jerusalem Man, cracked open the gate of time and brought the Deacon and his followers into the world. Twenty years during which Shannow was missing and the Deacon ruled from Unity, intent on building a new promised land... in his own image.
But the Deacon's Jerusalem Riders spread their own wave of terror, unleashing bigotry and death, massacring unbelievers and mutants in the name of peace. Until a lone rider appeared, bent on avenging the dead.
Wounded, his memory shattered, Shannow combated evil and injustice the only way he knew- head-on, both guns blazintg. But would that be enough to stop the mysterious Deacon and his mad crusade? Even if Shannow succeeded, he'd still face the satanic hordes of the Hellborn and their bloodthirsty lord, Sarento, the living embodiment of the stone of power known as the Bloodstone!

Other Notes:
Copyright 1994 by David A. Gemmell. Published in the United States in 1997 by Ballantine Books, a division of Random House. First Published in Great Britain in 1994 by Legend Books. Cover price: $5.99